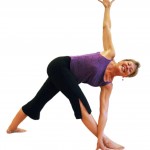 It's now been six months since I sold Willow Street Yoga Center to my son Joe, and his wife Natalie.  It was not an easy entry into their new roles as the owners and Directors of a big yoga center . (WSYC was actually the largest Anusara center in the country).  They took over Jan. 1, and on Feb. 3, the Anusara scandal hit in full force. They stepped up to the plate with decisiveness and courage, immediately breaking ties with Anusara and John Friend. I am happy to say Willow Street is still thriving and attracting more and more new students while keeping the old. I am thrilled to be a a little more free in my teaching, still staying with my five weekly classes, doing occasional workshops, and seeing more private clients interested in meditation and spiritual and transformational work.
My husband John and I have decided it's time to downsize as we're spending longer weekends on the Eastern Shore in our beloved little village of Oxford, Md. So come Sept. we are putting our house in Takoma Park on the market and will move into a two bedroom apartment less than ten minutes from where we live now.
It's amazing what one accumulates in over fifteen years in our home.  So between classes and clients, I am sorting, packing, cleaning, and making some upgrades I wish I had done years ago!   I think transitions are incredible opportunities to empty out (literally and figuratively) and create space for whatever comes next.  I have no plans to cut down on classes or clients for some time to come, but am looking forward to seeing what the Universe may have in store.
As you can see by the events posted on my website, there are some exciting events coming up. Betsey's and my Mexico workshop has only two spaces left in it, and it will be a wild and wonderful week with almost thirty Spirited Women. I'm finding I love to teach and share with women in their "spiritual power" years and want to target more workshops on that front. My workshop with Betsey Downing at Kripalu next April will be a good beginning.
I've just started to work on the Jamaica brochure for Moses's and my annual yoga vacation on the cliffs of Negril coming up this February. I believe it will be our tenth year, but I must say I've lost track. In any event, we hardly stop laughing from beginning to end and you can't beat the view from our yoga space.
Natalie and Joe are creating a Living Yoga Program to replace the Anusara Immersion, and that will feed into a new Yoga Teacher Training Program, hopefully scheduled to begin in Sept. of 2013.  Please go to www.willowstreetyoga.com and click on "in-depth study" to learn more. I will be giving some "post graduate" workshops such as the Assisting and Adjusting workshop in November with my dear friend and teacher extraordinaire, Maria Hamburger, and then in January, a whole weekend on the Energy Body.  I'm also hoping to offer a Meditation course or weekend in 2013.
So life is full but am finding enough time to see my four incredible and beautiful grandgirls once a week or more, and getting out in my kayak on the Tred Avon River in Oxford.  John and I love to explore the creeks and tributaries in the area in our 17′ Boston Whaler every chance we get.  I hope you all continue to stay cool and centered in what seems more and more extreme weather patterns, as well as in your lives. All Love and best wishes for whatever opportunities arise as Summer begins to draw to a close and a new season begins.