Yoga Vieques
with Suzie Hurley & Maria Hamburger
FULLY BOOKED!

September 3 – 10, 2022
Join Suzie and Maria for a week of asana, pranayama and meditation on one of the best kept secret islands ever, the island of Vieques, just six miles off the Eastern tip of Puerto Rico. Vieques is home to some of the most beautiful unpopulated, easily accessible beaches I have ever been to. There is good snorkeling, swimming, kayaking and more, all a short walk from the Vieques Guesthouse where we will be staying. And then of course, there's the rest of the island!!
Location, Accommodations, Registration & Meals
We will be in the small charming town of Esperanza on the south shore of the Island. The Vieques Guesthouse is a short five minute walk up from the Malecon (lovely brick boardwalk) on the Caribbean Sea, with a variety of excellent restaurants. Esperanza Beach and Coconut Beach are both in easy walking distance.
The Vieques Guesthouse, owned by Todd and Amanda Bergeson, is a 3 story 12 room small hotel with spectacular views. All rooms have AC, fans, cable TV, wi-fi with most rooms having ocean views.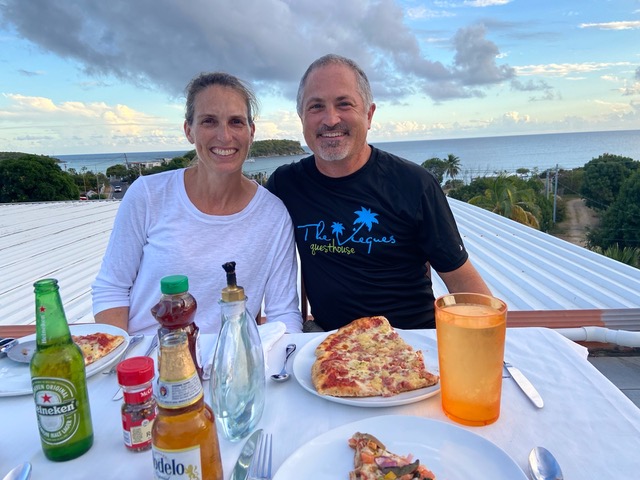 You will register with Amanda and Todd by calling them directly. The phone is 1-787-435-1513 and email is office@viequesgh.com. (note: There are pictures of all the rooms on their website, so when you call, pull up the rooms, and Todd or Amanda will help you decide on the room you want. First come, first serve as always) Then you will fill out the Registration Form on my website so Maria and I can easily access your info and keep track of who's coming.
There are 5 Single rooms, 4 Double Rooms and Room 6 is a Triple with a full kitchen, and two bedrooms. One bedroom has 2 Full Size beds, and another bedroom with a Queen bed. All other rooms have a microwave and ½ fridge. If the rooms in the Guesthouse fill up, we can put any overflow within a couple of blocks walk in other small lovely guesthouses. Todd and Amanda will make those arrangements for you if it becomes necessary.
Included in the price is a light breakfast before morning yoga and full brunch following the morning practice. Also included are two group dinners on our opening and closing evenings, Sept. 3 and Sept. 9. For other nights, you may choose to eat at one of the excellent restaurants in easy walking distance. Please note: Travel days are Sept. 2 or 3 and Sept. 10. Depending on your flight schedules, it may be necessary to spend one night in San Juan on Sept. 2 before traveling to Vieques by small plane the next day. Everyone will want to be settled in when we start on the evening of Sept. 3.
I looked at flights to San Juan from BWI as many of you would leave from BWI or Dulles, and there is one non-stop flight both going and returning with SW and United. If you booked that 8:30 or 9am flight, that arrives at 12:40 or 1:00, you could easily get one of the small flights later that afternoon that takes you to Vieques.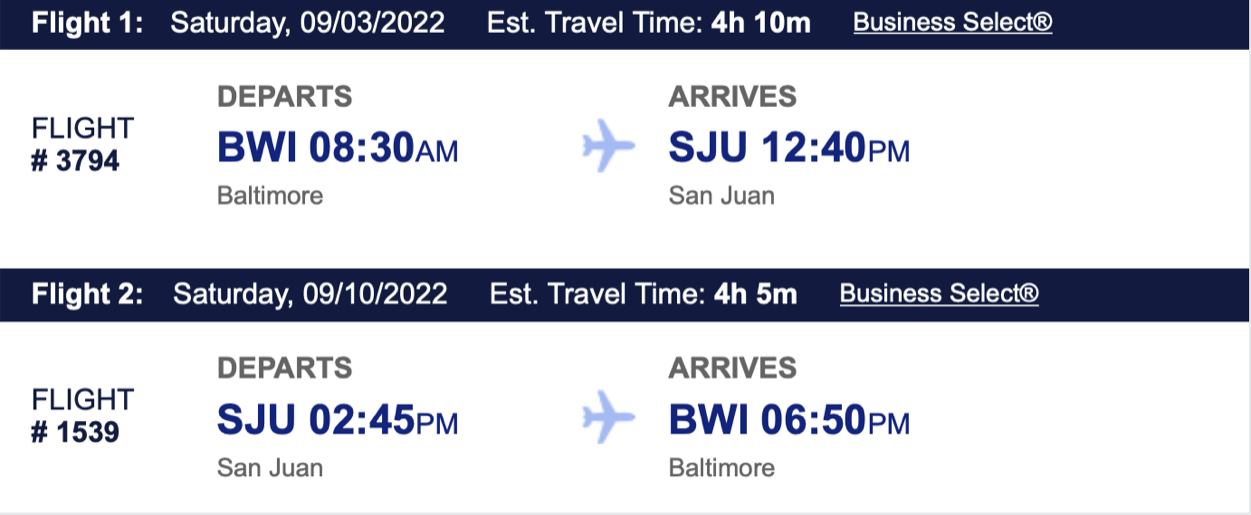 Props:
Todd and Amanda were hoping they would be able to order all the props for us, but they do not have enough storage for them until future construction takes place, so we will have to bring our usual props! Which are: your own mat, 2 blocks, belt and 2 sturdy yoga blankets for restoratives. (These are ALL very necessary!)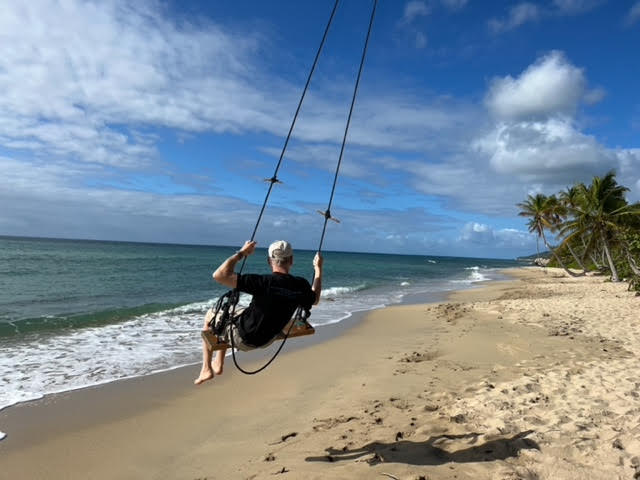 Travel info & Prices:
As stated above, the price includes guesthouse accommodations for seven nights, light breakfast, full brunch after class, two dinners, and all yoga classes. The price also includes a night group kayak tour of the world's best Bio-Luminescent Bay, plus pickup from the small Vieques airport to the Guesthouse. The Guesthouse will have 5 Vans available through the week to take us to different beaches and sights on the Island so no need to rent a car or golf cart. (which run about $90. a day).
You can count of about $150 for the hop over plus the return as Todd will arrange cheaper flights for you in groups of 10, when we know your travel info. The return would be everyone taking the ferry back which is only $2 and a lovely ride, and then there would be vans provided to take us to the airport (an hour and 15 minutes) for your return flights. So we would fly the hop over and take the ferry and vans back. (much cheaper!)
The fares to San Juan from BWI/IAD are very reasonable if you book early. I would suggest book your flights as soon as you book your room and give Todd & Amanda your itinerary as soon as you know it. Then he will arrange your small hops over.
Prices: Single Room – $2,090.
Double Room – $1750.
Triple with full Kitchen & 2 Bedrooms – $1940.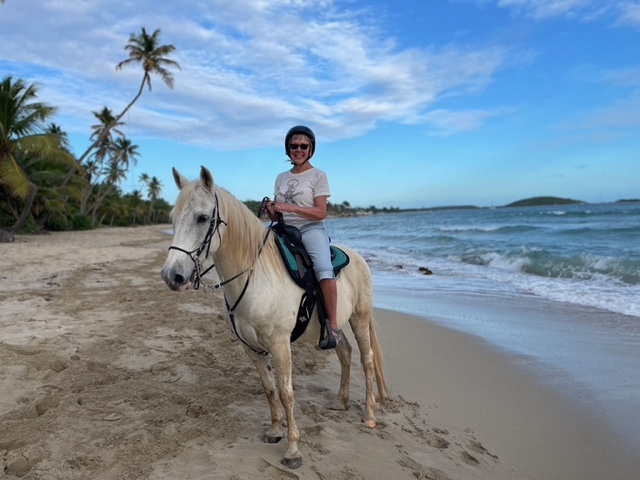 Refunds & Weather Cancellations:
We realize that there is always a possibility of hurricanes at this time, and if we have to cancel due to a hurricane or serious storm, there will be a full refund minus a $250 handling fee.
No refunds (unless due to weather and the entire retreat is cancelled) after August 1, unless we can fill your spot.
Registration
ONLY ONE SPOT LEFT!
Ready to reserve your spot?
CALL (1-787-435-1513) Todd and Amanda and book your room
Phone: 1-787-435-1513
Website: https://www.theviequesguesthouse.com/
Email:  office@viequesgh.com
Once you've reserved your room, please fill out the Registration Form here.
Your Teachers
Suzie Hurley
Suzie has been teaching yoga since 1981 and practicing since 1977. She holds an Advanced 500 hour Kripalu certificate, as well as an E-500 RYT hour Certificate from Yoga Alliance. Her 44 years of yoga practice also include 16 years of Iyengar study and 18 years as a Certified Anusara instructor.
Suzie is the former Director/Owner of the Willow Street Yoga Center in Takoma Park, MD that served nearly 2000 weekly students. Suzie Hurley blends the best of Anusara, Kripalu and Iyengar Yoga with her unique way of encouraging, enlivening and empowering her students to open to the joy that lies within. www.suziehurley.com
Maria Hamburger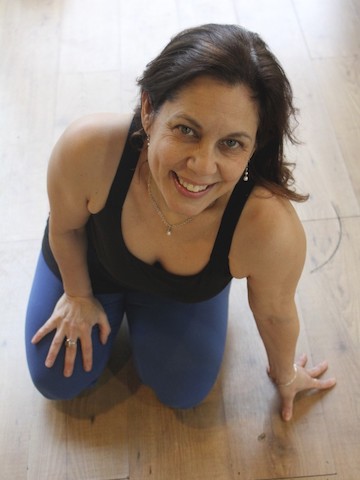 Maria is a certified yoga teacher who has taught for over 20 years students of all abilities in classes that are both physically and spiritually engaging. Her classes explore the benefits of the ancient practices of yoga within our modern world.
Maria is a FRC mobility specialist and likes to implement an understanding of anatomy and physiology along with strength and mobility training in her classes. Maria also enjoys playfully incorporating the myths, legends and poetry of the yoga tradition as well as healthy living through an enhanced understanding of anatomy and Ayurveda.
Maria has a live stream yoga platform where she teaches 3 classes a week and hosts teachers of various disciplines.